Elizabeth Hill has four children is a member of The Church of Jesus Christ of Latter-day Saints (inadvertently called by friends of other faiths as the "Mormon Church") residing in Montana.
Have you ever wondered why there are never any small children helping on cooking shows like Rachel Ray and Emeril? Sources tell me the shows would have to be taped from a padded room because you would have to be clinically insane to attempt measuring, stirring and any -ing with the little guys.
Anytime you introduce highly powdery elements like flour, sticky ones like honey and slick ones like oil–exciting things are in store. So, why in the world do I allow, even welcome my three girls and one son to assist me in baking/cooking?
It has been a process…
I have been through phases where during dinner preparation I wanted to install those applause signs (maybe Rachel or Emeril could have one I could borrow!) but I would change the lettering to read, "Get Out!". I have found myself saying phrases (not always in the Mrs. Cleaver voice) such as "Go play", "Go watch a movie" or even just plain "shoo, shoo, shoo!"
I felt like it was time to have some peace and become one with my outdated appliances.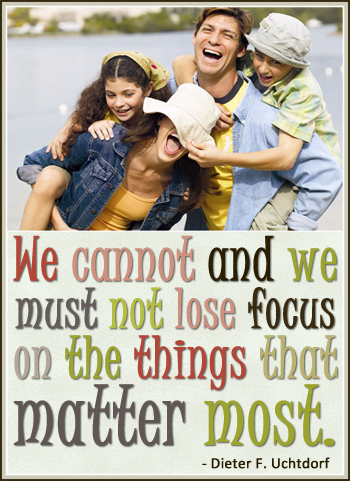 I felt that with being with them all day, this was my one respite before the craziness of bedtime and whiny children.
One night after a particularly "shooing" time had put all of us on the fast track to Prozac, I did some reflecting. At the end of the day (when I am good) I pray and read my scriptures and as I do I think about the choices I made, especially with my family. This is when I feel my Heavenly Father helping me be a better mom by nudging me to be a little better: say it this way next time, maybe not yell "shoo" five times in a row in a snarly voice. That sort of thing.
I was reading in the Bible of when Jesus blessed the 5,000 and did the whole miracle of the loaves and fishes. And as I was reading I realized in all the scriptures we have telling us words of the Savior his anthem is "Come". "Come unto me…" "Come follow me…" Come. Come. Come.
No shooing. I cannot recall one instance when he tells folks to go away.
I was reading to what happens before the miracle and realized even more how far I have to go to become more like Him. Before the teaching and the miracle he is told about John the Baptist's beheading and his disciples tell him to basically go where he can be alone, which he does. But the people follow him.
Now if this were me, I would tell these five thousand, "Listen, I am having a little 'me time' here. My cousin was just murdered and I need some space. Come back tomorrow and BYOFAB (Bring Your Own Fish and Bread). Don't be early and don't be hungry."
Instead, he heals them, teaches them and feeds them. He welcomes them. He shows them this by allowing them to be where he is.
Do you see what I am getting at here? I am not saying I want to spend every waking second with my children all velcroed to my side. I just want them to remember me enjoying their company rather than putting up huge neon signs proclaiming the "Get Out Gospel".
As I was reading this and feeling this enlightenment it also hit me how short a time I have until they really don't want to be around me as much. Right now they believe (almost) everything I tell them. They are so eager! Eager to learn, to feel, to touch to be right next to me.
So, I change. I breathe. I let them in–welcome them, even. I take down my electric sign, grit my teeth and realize that it isn't as bad as I thought it would be. As it often is in mothering, it all lies in my attitude how the winds of emotions blow. My stove is still old and my counters are cluttered but I have a feeling the layers of sticky and floury substances show proof that I am trying a little more everyday to be more like Him—the one who always beckons, "Come."