From the beginning of the life of Jesus Christ, shepherds played an important role. They were invited to see the newborn baby while it was still in the manger, and the invitation came directly from an angel. It's likely the Savior grew up hearing about this, and throughout His life, He exhibited a warm feeling toward shepherds, often referring to Himself as a shepherd, but of men, not sheep. He also referred to those He took care of as His lambs.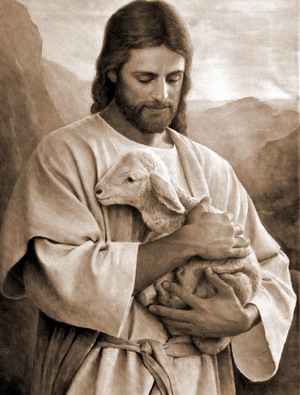 Jesus explained this analogy in John, chapter ten. He told his followers that a shepherd entered the sheephold by the door, openly and not sneaking in. As a result, the sheep knew the shepherd's voice. The shepherd knew each of the sheep by name and led them out. Because they loved him and trusted him, they followed.
His disciples didn't understand what he was talking about, so he interpreted the parable for them. He said He was the door:
I am the door: by me if any man enter in, he shall be saved, and shall go in and out, and find pasture. (John 10:9)
Not only did he come to give them life, but to help them live it more abundantly. This is one of the gifts of the gospel. When we know who we are and what is possible, we are able to get the most possible out of our time on earth.
Jesus continued the parable by explaining that a good shepherd loves his sheep so much he's willing to give his life for them. While someone hired to come in and watch over them is likely to flee at the first sign of a wolf, caring more for his safety than for the sheep, a shepherd will not. A true shepherd, watching after his own flock, will stay and brave the wolf in order to try to save his sheep, even if he dies in the process.
Jesus knows us and loves us, as does a true shepherd. He could have chosen to come here and live his perfect life. He would never have faced the trials that came from sin, and so would only endure those caused by mortality or the sins of others, and He would have been guaranteed admission into God's presence. He didn't make that choice. He stayed on to face the wolf-Satan-and defend His flock, eventually dying for us.
He finished the lesson with these words:
15 As the Father knoweth me, even so know I the Father: and I lay down my life for the sheep.

16 And other sheep I have, which are not of this fold: them also I must bring, and they shall hear my voice; and there shall be one fold, and one shepherd.

17 Therefore doth my Father love me, because I lay down my life, that I might take it again.

18 No man taketh it from me, but I lay it down of myself. I have power to lay it down, and I have power to take it again. This commandment have I received of my Father.
Jesus is the Good Shepherd because He loves his lambs-us-with a completeness that allowed Him to die just for us, even though He was free to choose to avoid death entirely.
He is our leader and our safety in this life depends on how well we follow His example and His teachings. When we follow the Good Shepherd we are kept safe in a spiritual sense, and will find it harder to be taken captive by Satan.
When Jesus was about to die, He counseled his apostles that if they loved Him, they were to feed His Sheep. This meant they were to continue to watch over the members of the church and to provide them with regular spiritual nourishment. While Jesus Christ continues to be the Good Shepherd, some things are best done by those who still live on Earth. The original apostles are now also gone, and it's now up to us, those of us who love the Savior, to watch over one another and over those who don't yet know of Him.
How do we assist the shepherd in His work? Jesus counseled us to consider everyone our brother or sister, and to care for them as if they were our own. As assistants to the shepherd, we feed His sheep every time we feed a person who is hungry, speak a kind word to someone who is normally ignored, or teach an adult how to read. We feed His sheep every time we share His gospel with them, and guide them lovingly onto the correct path to safety.
"And the King shall answer and say unto them, Verily I say unto you, Inasmuch as ye have done it unto one of the least of these my brethren, ye have done it unto me. (Matthew 25:40)