God commanded everyone to be baptized. During the baptismal process, we are cleansed of our sins and we also make covenants with God. These covenants are two-way promises we make between ourselves and God.
This is a preparatory step towards becoming a member of the Savior's church.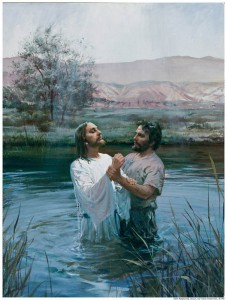 Some have wondered why Jesus Christ was baptized if He had no sins of which to repent, and of course, it was His own church. As we can see above, there are several additional reasons for baptism, beyond remission of sins.
Obedience to God's commandments is critical. Jesus is God's Son, and as a perfect mortal man, He kept every commandment of God. By necessity, this would include baptism.
13 Then cometh Jesus from Galilee to Jordan unto John, to be baptized of him.

14 But John forbad him, saying, I have need to be baptized of thee, and comest thou to me?

15 And Jesus answering said unto him, Suffer it to be so now: for thus it becometh us to fulfil all righteousness. Then he suffered him.

16 And Jesus, when he was baptized, went up straightway out of the water: and, lo, the heavens were opened unto him, and he saw the Spirit of God descending like a dove, and lighting upon him:

17 And lo a voice from heaven, saying, This is my beloved Son, in whom I am well pleased. (Matthew 3, KJV of the Bible)
By choosing to be baptized at the start of his mission, He set an example for us to follow. We learn that no one is exempt from the commandments of God, not even the Savior. If He needed to be baptized to "fulfill all righteousness" then surely we do as well.
Every member is also required to covenant with God. Even though Jesus had committed to his special mission prior to his mortal birth, He, like all others, took the opportunity to make or renew covenants with God. As He was just beginning His mission, this was important. He signified publicly that He was committed to honoring the promises He had made to His Heavenly Father, and it also gave Him access to God's portion of the covenant.
The Book of Mormon prophet Alma outlined the elements of the covenant we make with God. He taught that when we're baptized, we covenant to become a member of the Savior's church, to bear one another's burdens (take care of each other), stand as a witness of God, and to keep the commandments. Each of these were important portions of the Savior's ministry, and at the moment of His baptism, He re-committed Himself to do them.
The Savior simultaneously received the promises God makes with us at our baptism. These promises are dependent on our actions. If we keep our share of the covenant, God must keep His share. If we choose to neglect the covenants we made, God is not bound to fulfill His portion. God's portion is to forgive us for the sins we commit during our lifetimes, give us the gift of the Holy Ghost to be with us at all times if we're living in a way that is worthy of the companionship of the Holy Ghost, to bring us forth at the First Resurrection, and to allow us to enjoy eternal life. These blessings were the Savior's as well if He honored His mission.
This baptism also provided an opportunity for God the Father to bear testimony of the divinity of the Savior. He spoke from Heaven, proclaiming Jesus to be his Son, and expressing His pleasure at how the Savior had lived His life to this point. The Holy Ghost also appeared, which placed all three members of the Godhead at the baptism. This testified to the people who were present that Jesus really was God's literal Son and was divine in nature. It demonstrated the separateness of each member of the Godhead.
Jesus' baptism teaches us the importance of learning about the life of the Savior and then modeling our lives after His. As we observe how He kept the commandments, treated others, and made decisions, we can better understand what is required of us. We learn from His baptism how our own should be performed-by immersion and by a person in authority to do so. It was the Savior's first public step in His mission to teach by example.