Before Jesus' death, he reassured His disciples: "But the Comforter, which is the Holy Ghost, whom the Father will send in my name, he shall teach you all things, and bring all things to your remembrance, whatsoever I have said unto you."
A few moments earlier, however, He had referred to another comforter:
16 And I will pray the Father, and he shall give you another Comforter, that he may abide with you for ever;

17 Even the Spirit of truth; whom the world cannot receive, because it seeth him not, neither knoweth him: but ye know him; for he dwelleth with you, and shall be in you.

18 I will not leave you comfortless: I will come to you. (John 14)
Who was this second comforter?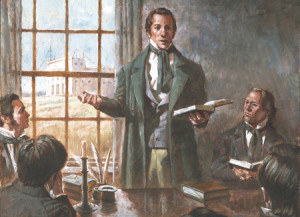 Joseph Smith received the answer to this question through revelation. "Now what is the other comforter? It is no more nor less than the Lord Jesus Christ Himself; and this is the sum and substance of the whole matter; that when any man obtains this last Comforter [the promise of eternal life], he will have the personage of Jesus Christ to attend him, or appear unto him from time to time, and even He will manifest the Father unto him, and they will take up their abode with him, and the visions of the heavens will be opened unto him, and the Lord will teach him face to face. … "(HC 3:381.) (Quoted in Ivan J. Barrett, "'He Lives! For We Saw Him'," Ensign, Aug 1975, 17)
We can tell this comforter is not also the Holy Ghost. The Holy Ghost was not given to them until the Savior died, but Jesus told the disciples they already knew this comforter because he dwelt with them. It is Jesus Himself who will serve as the second comforter. The Holy Ghost guides us through this life, but after our death, we can have the privilege of living in Jesus' presence and being taught by Him directly. When we need comfort then, we can go directly to the Savior.
However, we need not wait until death to receive the Savior's comfort. Jesus promised His disciples, in verse 18, "I will not leave you comfortless: I will come to you."
David A. Bednar suggested how this could work in our daily lives:
Let me suggest that one of the ways whereby the Savior comes to each of us is through His abundant and tender mercies. For instance, as you and I face challenges and tests in our lives, the gift of faith and an appropriate sense of personal confidence that reaches beyond our own capacity are two examples of the tender mercies of the Lord. Repentance and forgiveness of sins and peace of conscience are examples of the tender mercies of the Lord. And the persistence and the fortitude that enable us to press forward with cheerfulness through physical limitations and spiritual difficulties are examples of the tender mercies of the Lord. (David A. Bednar, "The Tender Mercies of the Lord," Liahona, May 2005, 99-102)
We can find great comfort in knowing the Savior loves us and understands us. Because He lived here on earth, and experienced the trials of an earthly existence, He can understand the various challenges we face in our lives. He had brothers who chose not to believe He was the Savior initially. His earthly guardian, Joseph, died prior to the start of His mission, and according to tradition, may have died when Jesus was somewhat young. He was disliked and mistreated. He became ill, tired, and hungry. He knows the challenges we face in our lives and when we go to Him for comfort, we are assured of a listening heart that really understands. Having taken on Himself our sins, He also knows just how painful they are.
The Savior is a wonderful comforter to help us both in this life and the next.