When Jesus Christ was in Samaria, he became tired and thirsty and so, when He came to Jacob's well, he sat down to rest. A Samarian woman came to the well and Jesus asked her for a drink of water. She was startled, and wondered why a Jewish man would ask this of a Samarian, because the Jews and Samarians had nothing to do with each other. He answered, "If thou knewest the gift of God, and who it is that saith to thee, Give me to drink; thou wouldest have asked of him, and he would have given thee living water." (John 4:10)
The woman didn't understand what He meant, so He explained, "Whosoever drinketh of this water shall thirst again:
14 But whosoever drinketh of the water that I shall give him shall never thirst; but the water that I shall give him shall be in him a well of water springing up into everlasting life."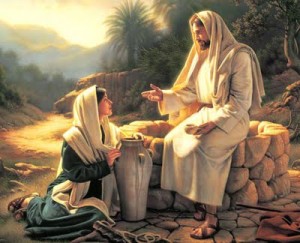 Previously, the prophet Jeremiah had also quoted the Savior using this phrase. "For my people have committed two evils; they have forsaken me the fountain of living waters, and hewed them out cisterns, broken cisterns, that can hold no water." (Jeremiah 2:13)
The fountain of living waters is Jesus Christ and His gospel. The message Jesus gave the woman at the well is the same one he gave those people who showed up to hear his sermons only to get the free food that sometimes was given. He suggested they not seek so much after meat, which will spoil, but after the everlasting gospel:
32 Then Jesus said unto them, Verily, verily, I say unto you, Moses gave you not that bread from heaven; but my Father giveth you the true bread from heaven.

33 For the bread of God is he which cometh down from heaven, and giveth life unto the world.

34 Then said they unto him, Lord, evermore give us this bread.

35 And Jesus said unto them, I am the bread of life: he that cometh to me shall never hunger; and he that believeth on me shall never thirst.
The gospel of Jesus Christ can help us through every trial and situation. It brings peace in the harshest moments of life, and meaning to the briefest and most difficult lives.
Worldly things, even those that are essential to our survival, such as food and water, only last a short time and affect only small portions of our lives. Things of the spirit have an eternal impact on our lives and affect everything we do.
We can access the living water through the Holy Ghost. The Holy Ghost is our direct connection to personal revelation, comfort, and peace. When we're struggling with something in life, we can pray and ask the Holy Ghost for wisdom to know what to do. Generally, we're expected to do what we can first and come to a decision. Then we confirm that decision with the Holy Ghost.
If we need comfort, the gospel is the best place to find it. The Holy Ghost never offers empty platitudes or misguided reassurances, but always gives us exactly what we personally need. We can feel the comfort descend on us like a warm blanket if we have faith. Jesus said, "I will not leave you comfortless: I will come to you." (John 14:18)
We can turn to the scriptures for words of comfort and advice. They give us the words of the prophets, who were called to tell us just what God wanted us to know. They also contain the words of the Savior. The stories themselves are a source of advice and comfort. As we watch how others solved their problems using the teachings of God, we can find wisdom for solving our own trials.
The modern day prophets also offer comfort and wisdom to help us find eternal peace and joy. God has given us a very complete plan to meet every need and by turning to the gospel, we can make it through even the most challenging days.