People often question the Book of Mormon on the basis of the following scripture in the Bible:
For I testify unto every man that heareth the words of the prophecy of this book, If any man shall add unto these things, God shall add unto him the plagues that are written in this book: (Revelation 22:18)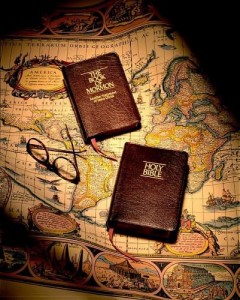 Many readers interpret this verse to mean that after the Book of Revelations, the Holy Bible is a closed canon. One problem with this is that the Bible had not yet been compiled. It was a loose collection of records and no one had yet gathered up the various writings and decided what would be included and what would not. Nor are they certain when the Book of Revelation was written, so it might not have been last.
An additional problem with interpreting this scripture in this manner is that a similar warning is found in the Old Testament:
1 Now therefore hearken, O Israel, unto the statutes and unto the judgments, which I teach you, for to do them, that ye may live, and go in and possess the land which the Lord God of your fathers giveth you.

2 Ye shall not add unto the word which I command you, neither shall ye diminish ought from it, that ye may keep the commandments of the Lord your God which I command you. (Deuteronomy 4 in the King James version of the Bible)
So now, the reader has a problem. Do we tear out all the pages after Deuteronomy and declare them non-scripture? Of course not. We'd lose the entire New Testament and most of the Old Testament as well.
If these scriptures don't indicate a closed canon, what do they mean? Let's take a look at the scripture in Deuteronomy first. It says, "Ye shall not add unto the word which I commanded." Who wrote the book of Deuteronomy? It is the teachings of Moses. Interpreting this literally would mean only the words of Moses count as scripture, and the Christian world does not believe that is all God had to say on the subject of religion. What Moses was saying, clearly, is that his listeners were not to teach anything beyond what he taught. He was the prophet and only he was entitled, at that time, to receive revelation from God for the entire church. He was cautioning them not to change or add to those revelations, since only he was entitled to do so, and then only under direction from God.
Applying this same reasoning to the Book of Revelation, we see that Revelation contains the words of John the Beloved. He says, "For I testify unto every man that heareth the words of the prophecy of this book, If any man shall add unto these things…" Since the Bible had not been compiled at the time John wrote these words, he clearly referred only to his own book, the Book of Revelation. He again was telling us not to alter the word of God. Only a prophet can speak for God, and it is not our privilege to presume to take on that role without an official calling from God.
God spoke to His children in the first days of the world, and He again speaks to them in the final days. We must never force God to stop talking to us, telling Him He can't say anything else now that the Bible is published. God cannot be limited by man. Each new prophet added to the volume of sacred literature. God spoke first to Adam, and each new prophet added onto the current volume of scripture. While there may have been some empty spaces, such as the time between the Old and New Testaments, God has always returned to continue His ongoing dialogue with the children He loves. The Book of Mormon predicted the day when people would attempt to prevent God from speaking and warned against it:
3 And because my words shall hiss forth-many of the Gentiles shall say: A Bible! A Bible! We have got a Bible, and there cannot be any more Bible. (2 Nephi 29)

8 Wherefore murmur ye, because that ye shall receive more of my word? Know ye not that the testimony of two nations is a witness unto you that I am God, that I remember one nation like unto another? Wherefore, I speak the same words unto one nation like unto another. And when the two nations shall run together the testimony of the two nations shall run together also.

9 And I do this that I may prove unto many that I am the same yesterday, today, and forever; and that I speak forth my words according to mine own pleasure. And because that I have spoken one word ye need not suppose that I cannot speak another; for my work is not yet finished; neither shall it be until the end of man, neither from that time henceforth and forever.

10 Wherefore, because that ye have a Bible ye need not suppose that it contains all my words; neither need ye suppose that I have not caused more to be written. (2 Nephi 29)
Mormons do not complain about God's gift of more words to us. We celebrate them and look forward to every new communication with Him.