Marcus is a member of The Church of Jesus Christ of Latter-day Saints (inadvertently called by friends of other faiths, the "Mormon Church"). Tried by adversity as a teenager, he now shares his story of healing. Marcus has also enjoyed filming a nationally televised commercial and traveling to South America.
It was a bright and sunny day as we left the OBGYN office that afternoon but the cloud of despair that had just been cast over us seemed to block out any sunlight. As we drove home in silence, all I could think about was the news we had just been given. The words "you won't be able to get pregnant" went through my mind over and over again. My wife of almost 2 years had just been diagnosed with PCOS. Polycystic Ovarian Syndrome is related to an imbalance in female hormones. In my wife's case, this imbalance was causing her eggs to not mature and not be released from her ovaries which then formed ovarian cysts. This condition was the cause of her infertility.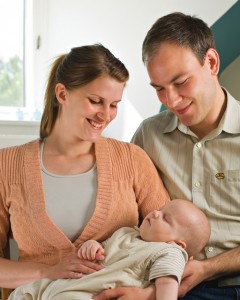 Maybe it's the manly side of me talking but I've always tried to be a good provider for my wife. If she had a problem I would do my best to fix it. If she was sad, I would try to comfort her to make her feel better. Now she suffered from a problem that not only was affecting her physically but emotionally as well and there didn't seem to be anything I could do to solve it.
As I struggled with my own emotions, I did my best to comfort Valeria and help her through that dark period. We expressed our sorrow to the Lord as we prayed in our personal prayers and as a couple. Very few times in my life have I ever felt more humbled than when I knelt in prayer with my head bowed and pleaded with the Lord to help my wife through her struggles and to allow us to have children at some point in our lives. One day while I was at work Valeria went to the Orlando LDS Temple. She decided that she needed to go to a place where she felt closer to God than anywhere else and talk to him. It's hard to describe the peace you feel while inside one of our temples to someone who has never been before. It's quiet and calm with no distractions. It's a place for meditation, prayer and contemplation. Valeria had intentionally gone by herself so she could focus on what was in her heart. The tears flowed as she prayed and expressed her great sorrow that she couldn't be a mother. She told the Lord how badly she wanted to bring children into the world and share her love with them.
A few weeks went by and I knew that my wife's birthday was soon approaching. I wanted to do something special for her to cheer her up so I bought season passes to one of her favorite theme parks. As I presented her with the passes and told her that we would be getting up early to go to the park I saw a sense of joy spread across her face that I hadn't seen since we received the bad news. When we arose the next morning she expressed concern that she was having more symptoms of her condition and needed to take her medication. I knew the chances of her being pregnant were not very high but I insisted that we go to the store and buy some pregnancy tests first. If by some chance she was pregnant and took her medication we would lose the baby.
I paced back and forth in front of the bathroom door nervously. What only took minuets seemed to take a life-time. As she opened the door I saw tears running down her face and the horrible disappointment that I had felt the day of our visit to the Dr. had returned. It was then that I realized that those were not tears of sorrow. They were tears of joy. She presented me with the multiple pregnancy tests, all of which were positive. We weren't able to go on any rides at the theme park due to her pregnancy but it didn't matter. The Lord gave my wife the best birthday present she could have ever received.
We returned to the OBGYN office a few days later for an ultra sound to confirm the pregnancy. Valeria was 7 weeks pregnant and our baby was only the size of a finger nail but his heart beat was strong. The ultra sound technician stood in amazement as we watched the monitor. It was only a matter of weeks earlier that she had taken images of my wife which helped to confirm her condition and now we were watching the beating heart of our precious child.
Fast forward to today and our son just had his first birthday. I hate to think of what life would have been like without this little guy. He has filled an empty spot in our family that we never even knew was there. He likes to bark like a dog, smash noodles between his fingers and he can't sit still for 2 seconds. My wife had a healthy pregnancy and hasn't had any more symptoms of her illness since that day at the Temple. It's as if her condition just disappeared.
Some people say that there is no God or that miracles stopped long ago with Prophets like Moses. Some people say that it's silly to give credit to God when science is all of the proof that we need. When I hear these things all I have to do is look at my son to remind myself not only that God does exist, but he still answers our prayers and still performs miracles.
The greatest birthday gift my wife will ever receive wasn't bought with money and didn't come in a box. It was paid for with tears and delivered through faith. She and I both know that no other gift will ever be loved as much as our little gift from God.