Just before Jesus' death, He promised His apostles God would send a comforter to them after His death. What is the comforter? The comforter Jesus promised is the Holy Ghost or Holy Spirit. This precious gift brings comfort in a variety of ways to those who live worthy of its presence.
But the Comforter, which is the Holy Ghost, whom the Father will send in my name, he shall teach you all things, and bring all things to your remembrance, whatsoever I have said unto you. (John 14:26)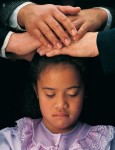 Jesus Christ understood His apostles would miss Him and even be frightened after He died, leaving them with the responsibility of running the young church. One role of the comforter is to comfort in the traditional sense. It could help the apostles cope with their grief in the days to come. In our own lives, we can also call on the comforter when we're sad or worried. Whether it's a small fear of the dark, or an overpowering grief, the Holy Ghost can come into our hearts and ease the pain. This doesn't mean we'll never be sad or hurt. It does mean we'll be able to feel that God loves us and has sent someone to help us get through the trial.
The Holy Ghost provides comfort in ways we sometimes don't associate with comfort. One way it does this is to confirm truth. Not knowing what is true can be a frightening experience when your eternal salvation depends on knowing it. The Holy Ghost is the only reliable source of truth.
26 But when the Comforter is come, whom I will send unto you from the Father, even the Spirit of truth, which proceedeth from the Father, he shall testify of me: (John 15:26)
When we know what is true and what God wants us to do and to be, we can have a peaceful feeling in our hearts, and be freed of many of the most painful worries. Dallin H. Oaks, a Mormon apostle, taught:
One of the greatest things about our Heavenly Father's plan for His children is that each of us can know the truth of that plan for ourselves. That revealed knowledge does not come from books, from scientific proof, or from intellectual pondering. As with the Apostle Peter, we can receive that knowledge directly from our Heavenly Father through the witness of the Holy Ghost.

"When we know spiritual truths by spiritual means, we can be just as sure of that knowledge as scholars and scientists are of the different kinds of knowledge they have acquired by different methods." Dallin H. Oaks, "Testimony," Ensign, May 2008, 26-29
There isn't a science experiment that can prove God or tell us which church to join, but when we rely on the Holy Ghost, we don't need a science experiment. We can learn the truth through the Holy Ghost and feel comforted that however challenging life might be, we're following God's plan for us.
A related function of the Holy Ghost's ability to provide comfort is through guidance. We often have to make personal decisions about our lives, and sometimes, even after we've studied it out and made a decision, we wonder if we've done the right thing. The Holy Ghost knows the answer, because God knows everything and the Holy Ghost is His messenger. We're taught that if we study an issue and make a choice, we can pray to know whether or not we've chosen correctly. If we experience a feeling of peace, comfort, or well-being, perhaps even what some have described as a burning sensation in the chest, we know we've made the right choice. You cannot do wrong and feel right, Mormons are taught, so peacefulness is a message from God. If our feelings are negative or confused, we know we should go back and re-evaluate the problem. Once we have our answer, we can carry out the decision and not worry about it again, knowing we've done what God taught us to do and it's in His hands now.
In order to receive the comfort of the Holy Ghost, we must be worthy to have it in our lives. Prior to membership in God's kingdom, we can have the Light of Christ with us, which will stay with us all our lives. During this time, we can periodically receive visits from the Holy Ghost as well. After we have identified and chosen to join God's church, we can be baptized. Following baptism, we are given the gift of the Holy Ghost at the same time we're made a member of God's church. From this time on, the Holy Ghost can be with us all the time. However, we must make a serious effort to keep the commandments. The Holy Ghost can't dwell in a sinful place, and so our spirits must be kept as clean and pure as possible, to be a worthy home for this great gift. When the Holy Ghost warns us we're headed for danger, we have to obey and stop doing wrong or leave an inappropriate location. As long as we are doing this, we are promised the Holy Ghost will stay with us all the time, to guide us safely back to God's kingdom.
About Terrie Lynn Bittner
Terrie Lynn Bittner is the author of two homeschooling books and numerous articles, including several that have appeared in LDS magazines. She is married to Lincoln Bittner and is the mother of three grown children and grandmother to two girls. Terrie became a Mormon at the age of seventeen and has been sharing her faith online since 1992. She can also be found blogging about being an LDS woman at LatterdaySaintWoman.com.