Robert Millet, long-time religious faculty member of Brigham Young University, and Gerald McDermott, Evangelical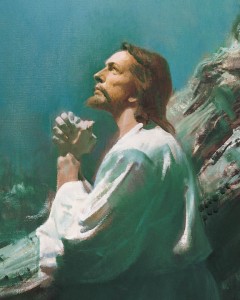 spokesperson and theologian, have modeled in conversation how those embracing two different spiritual viewpoints can dialog civilly about their respective beliefs.  Having lectured around the country contrasting Mormonism and Evangelical tenets, Bob and Gerald have maintained a close and meaningful friendship, and have striven to attain a deeper understanding of each other's faith and beliefs.
For over 180 years, Mormons (members of The Church of Jesus Christ of Latter-day Saints) have unequivocally declared their central belief in the atoning mission of Jesus Christ and their pivotal belief in the Savior as Redeemer and Head of His Church, and yet, for so long, this notion has been frequently disavowed or simply missed by the collective public.  In light of this ongoing misperception, it is refreshing to hear what Gerald McDermott shares in this regard:
I'm afraid I am one of those who has misunderstood and misrepresented Mormons. . . . I mistreated a distinguished Mormon historian when he came to speak to my class more than a decade ago. Besides treating him rudely, I did not understand how central Jesus Christ was to his faith and to the LDS Church [Church of Jesus Christ of Latter-day Saints] generally.  As I remember it, I suspected he wasn't telling me the whole truth when he insisted he was trusting in Jesus for his salvation, and I suggested as much to my class by my repeated counter-assertions and questions.

I have since learned that, as Professor Millet demonstrates in the preceding essay, Jesus Christ is indeed at the center point of Mormon faith. As I have learned from my own reading of the Book of Mormon, Jesus Christ is central to the story, and this centrality is epitomized by 2 Nephi 25:26: 'We talk of Christ, we rejoice in Christ, we preach of Christ, we prophesy of Chirst and we write according to our prophecies, that our children may know to what source they may look for a remission of their sins (2 Nephi 25:26).' That verse alone says a lot–that Christ is at the center of Nephi's consciousness, and it is through Christ that he seeks forgiveness of his sins.  I will suggest [later in this discussion] that the Mormon view of Jesus Chrsit is different from that of evangelicals and other orthodox Christians, but the fact remains that Christ is central to LDS consciousness. I am struck by Susan Black's calculation that Christ or his ministry is mentioned on the average of every 1.7 verses in the Book of Mormon.
While Mormons testify that their salvation is in fact only in and through Christ, the Christ in whom Mormons believe has characteristic differences from the Christ described from the pulpit, at least, of other religious denominations. Mormons claim that Christ's appearance in our day provides additional revelation on who He is and what He expects of each of us.
As a starting point for a discussion about the two faiths, though, McDermott agrees with Professor Millet that Jesus is God and is the only way to salvation, but then adds this caveat, as Mormons would– "although evangelicals and Mormons disagree on what these things mean."
For more of what Mormons believe about the nature and character of Jesus Christ, see upcoming posts. Feel free to share your questions with visitors to this site in the forums on this site, or to contact us directly.
Source:
Claiming Christ, Robert L. Millet & Gerald R. McDermott, Brazos Press: Grand Rapids, Michigan, 2007, 55-60.
About karenrose
Living out a great season of my life, thanks to Jesus Christ, and two wonderful daughters, a great life's work. Loving this opportunity to share faith online... I'm a single Mom, convert to The Church of Jesus Christ of Latter-day Saints, second-gen Italian, from the East coast originally. Love the fine arts, dance, frozen yogurt, temples, scriptures, writing, jazz, helping others reach their potential, king salmon, ....and not in that order. God is good. I feel it deeply when people have a misconception of Heavenly Father or Jesus Christ, His Son, that lessens or cheapens Them and blinds one's ability to feel His presence or to trust in an ultimately good eternal end to life's circumstances.