Jesus Christ considered missionary work to be very important. It was a way of bringing the gospel to others. After His death, His apostles continued the missionary work, traveling to various places to teach the gospel.
Today, the Mormons continue that commandment by sharing the message of Jesus Christ with those who are interested in hearing it. Members of the church teach by example and by answering the questions of others, but the church also has a formal missionary program.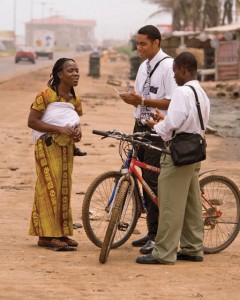 The young missionaries are the ones most people are familiar with. The men are easily recognized by their suits, short hair, and clean-cut appearance. The women stand out in their conservative (but modern) dresses and hair. Both wear name tags explaining who they are. They are often seen riding bicycles in their dress clothing.
Men begin their missions at the age of nineteen, and women at twenty-one. Missions are voluntary and each missionary pays his or her own way. There is no salary for this time-it is considered a service to God. Men serve for two years, and women, who go less often, serve for eighteen months.
Missionaries live by very strict rules. They have set times for rising and going to bed. They are expected to study, pray, and work hard, which helps them develop a strong sense of discipline which is a real benefit when they come home and return to school or work, as well as when they start their families.
They are never alone. They share housing with another missionary of the same gender and these two are always together, in order to help them avoid temptations. These companionships are rotated frequently. Some companions are compatible, and some are not, but they're expected to learn how to get along with every companion, not just the easy ones. This is valuable training in human relations. As they learn to get along with others who may be very different from them, they improve their ability to succeed in their future careers and in their communities. Learning to work as a team prepares them for successful marriages. With their companions, they study, pray, plan, and work, and they quickly learn to compromise and to motivate one another.
A missionary's work day consists of teaching people who have asked to learn more about the church. When they don't have appointments, they go door to door talking to people-but staying only if invited-or talking with those they meet on the street. They also participate in community service every week, as part of their training in learning to always give back to the places they live.
Missions are not restricted to young people. Older retired couples or singles can also serve missions. They are often assigned to specialized missions. Some serve humanitarian missions, sent to places in the world that need humanitarian aid. Others work in temples, help in the food banks, or assist in areas where older, more experienced missionaries are needed.
Others serve as mission presidents, sometimes even when they still have children at home. The entire family then moves to the area in which the father will preside. Both the husband and wife are actively involved in this assignment, overseeing a large team of missionaries, serving, in a way, as surrogate parents and providing leadership, guidance, and counseling.
When a Mormon missionary comes to your door, he will ask permission to share a very brief message with you on a particular subject-Jesus Christ, families, or some other topic they think people in the area might be interested in. They will either deliver it then, or if you prefer, they'll return at a time you request, such as when a spouse is home.
If the initial message interests you and you'd like to know more, they will return with a series of messages about Mormon beliefs. They come only as long as they're welcome. They are respectful of the fact that it's your home and although they must honor their standards, they will also honor yours.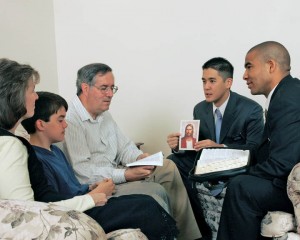 You should be aware Mormons don't drink coffee, and many don't drink sodas with caffeine. You aren't obligated to offer them anything at all, but of course, young people who have worked hard all day usually won't be unhappy at being offered something. However, they aren't there to be fed, just to teach. You needn't make a fuss about their visits. Simply be certain the environment is quiet so they can teach, which means to turn off the television and radio, and gather your family.
Many people enjoy these visits from clean-cut, cheerful young people, even if they don't actually intend to join the church. The missionaries don't argue religion-they simply teach what they believe, and many are interested in learning something new.