The Mormon health code, known as the Word of Wisdom, has generated a great deal of publicity, especially when combined with research showing Latter-day Saints have less cancer and heart disease than do others. Today, the teachings are backed by scientific research, but at the time the commandment was given, it was considered very odd and very different from what many believed to be the best way to eat and drink.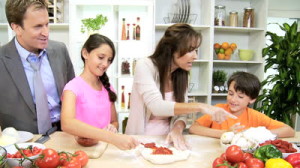 Mormons completely abstain from alcohol, even so-called light drinks. Naturally, they also have lower alcoholism rates than the general population, since even a genetic tendency to the problem is not an issue if a person never takes the first drink. They also completely avoid tobacco. Those who wish to join the church must first give up these habits prior to being allowed to be baptized. Support is available to help those who struggle to change their habits.
They also avoid coffee and tea. Herbal teas are not included in this, since they aren't really tea at all. It was commonly believed the teaching had to do with the caffeine, but this is not true. The original teaching referred to hot drinks, and in that time in history, this term simply meant coffee and tea. However, many Mormons do refrain from drinking sodas with caffeine, since it is a drug and can be addictive.
Mormon beliefs require members to avoid taking into their body harmful or addictive substances, giving them the personal responsibility to decide what to eat or drink beyond what is specifically listed in the commandment. They are also required to avoid illegal drugs of any kind.
The Word of Wisdom isn't just a collection of things to avoid, however. The Mormon health code also outlines healthy ways to eat. For instance, it encourages the use of fruits and vegetables in the diet, given with the counsel to be thankful for them.
Meat is allowed, but is meant to be used sparingly, which fits with today's dietary guidelines, but which was considered unusual in a time when hunting was a primary source of food.
Grains, such as wheat, rice, and oats, are described as the staff of life and members are encouraged to use them. Mormons generally have a good supply of wheat put away for emergency use in hard times, as well as for their everyday use. Most Mormons know how to make their own bread with wheat, even if they don't do it every day.
The promises that come with this commandment are great, and can be seen in the results of scientific studies done on Mormon health:
"All saints who remember to keep and do these sayings, walking in obedience to the commandments, shall receive health in their navel and marrow to their bones;
"And shall find wisdom and great treasures of knowledge, even hidden treasures;
"And shall run and not be weary, and shall walk and not faint.
"And I, the Lord, give unto them a promise, that the destroying angel shall pass by them, as the children of Israel, and not slay them" (D&C 89:18-21).