Besides the work the Mormons do to take care of each other, they also have projects designed to help people around the world without regard to their religious beliefs. The church's Humanitarian Services program carries out extensive humanitarian projects world-wide. Money comes from donations specifically targeted to that program, and no money is spent on administration, which is paid for out of regular church funds.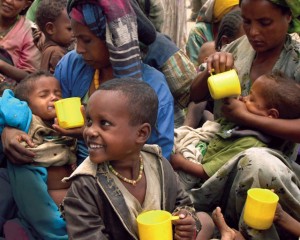 Some programs are carried out in conjunction with other religions or charity groups. Each group provides what it has to complete a project much larger than either could carry out alone. For instance, the church shipped 142,000 pounds of medical supplies and other things that were needed to Myanmar. From there, CARE took over the distribution, because they had the programs already in place to do so. They work with a variety of organizations to vaccinate children in 28 countries against measles. Since October of 2003, the church has provided 54,784 volunteers to work in the program. They've also provided funding that has been used to purchase vaccines and used their network of communications to get the word out to families about the clinics..
Members of the church also use their time, resources, and talents to make items for the church to distribute. Many children put together school kits for children who couldn't go to school without them. The humanitarian aid website has patterns for things such as quilts, toys, and baby items.
In Guatamala, only two percent of the country's budget is spent on education, and as a result, the schools have very little to offer, especially in terms of comfort. Many children are forced to sit on slabs, and use planks to write on. Many of the children can't go to school at all, because they're required to provide their own basic supplies, such as pencils and notebooks. The cost of these items is extremely high. The church recently placed five hundred desks in mountain schools, as well as a large number of school kits, which are carefully designed to have no religious, political, military, or commercial materials in them.
Salt Lake City is the home of the Humanitarian Aid Center. Here, volunteers can drop by to help with any projects currently in progress. The center also offers classes for immigrants and refugees in English, computer skills, and customer service. After completing the course, they're given longer term help in finding permanent employment.
The Humanitarian Aid program is only one small part of the church's commitment to helping the poor. Jesus Christ set the example for all who follow Him as He served his three year mission. He healed the sick and disabled, offered comfort and encouragement, and gave people dignity and respect who were not accustomed to receiving it. As He did these quiet acts of service, He also reminded His followers to do the same, as did His apostles:
16 Hereby perceive we the love of God, because he laid down his life for us: and we ought to lay down our lives for the brethren.
17 But whoso hath this world's good, and seeth his brother have need, and shutteth up his bowels of compassion from him, how dwelleth the love of God in him?
18 My little children, let us not love in word, neither in tongue; but in deed and in truth. (1 John 2)