Long before the economy became stressful, Mormons were learning to be self-reliant and to prepare for bad times. They teach that each person should be responsible for himself and his family as far as possible. Then, the church steps in to help out when personal resources have been exhausted.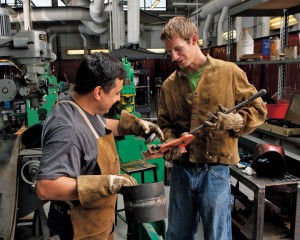 There are many aspects to self-reliance in the Mormon world, and these are important for anyone at all, of any faith. One important part of this teaching is education. Mormons are encouraged to obtain all the education they need to be able to get good jobs, and to continue a life-long process of learning. The Mormons offer free literacy classes for those who need it, even if they aren't members of the church.
Another part of self-reliance is to avoid debt. In a time when most people lived on credit cards, Mormons were being instructed to get out of debt and to stay out, putting those who listened in a good position when the credit world began to fall apart. They're also taught to build up savings to see them through economically difficult times.
In addition to creating savings and avoiding debt, Mormons are asked to put away food and other necessary supplies for hard times or shortages. They store three months of food that will maintain life, such as wheat, and a year of the types of foods they normally eat. In addition, they're asked to store water. In the event of a crisis, such as Hurricane Katrina, where food was not available, Mormons are prepared to survive for a while. In a longer term challenge, such as unemployment, Mormons can avoid purchasing food, which can reduce their spending when money is uncertain.
Mormons also prepare a 72-hour kit for short emergencies. These are portable and can be taken with the family in an evacuation. They contain just what's needed to last 72 hours in an emergency, which is often how long it takes for the Red Cross and other services to arrive.
In preparation for challenging economic times, Mormons are told to learn how to cook from scratch, cope with basic first aid, and develop other skills needed to manage during an emergency.
By living modestly, they also become less reliant on material things for happiness and satisfaction. They realize their true happiness is found in God's teachings and in their family life, not in the things they own or could buy. While their homes may not be as nice, and their children might not have the most expensive toys and clothing, they are learning to value things that can't be taken from them. In an economically difficult time, many Mormons are able to live essentially as they always had, or without considerable sacrifice.
Mormons also go without food for twenty-four hours each month, skipping dinner one night and breakfast the next morning, and also doing without drinks of any kind-even water-and snacks. They donate what they save, and more if they have it, to a special fund used to help those who have exhausted their personal resources and need additional help. Those people must first be approved by a church leader. Since it benefits those who have previously donated to the fund and who have regularly served, it is not charity in the traditional sense of the word. Members who receive help are expected to repay in whatever way they can, through increased church service. This helps them maintain their personal pride and their ability to provide for themselves, although in a different way than before. The help is only temporary, and members are expected to use that time to improve their ability to care for themselves by attending job-hunting classes offered by the church and improving their skills.
Self-reliance is part of God's plan for His children. He wants them to learn how to care for themselves, and He makes up the difference when they've done all they can do.