The Savior didn't just wander around giving sermons while He lived on earth. He also worked hard to serve those He met. He commanded His followers to serve as well. There are many ways Mormons serve, both formally and informally, but one that has received a great deal of attention lately is the Mormon Helping Hands program.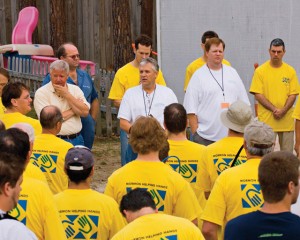 In the late 1980s, the Church of Jesus Christ of Latter-day Saints (sometimes called the Mormons) instigated a day of service in several countries, including Argentina, Paraguay, Uruguay and Chile. On this day, Mormons asked their local governments to suggest projects that needed doing and then carried them out within their congregations. Although the program was only assigned to a small number of countries, Mormons across the world learned of the program and many developed their own local programs as well. In short time, a grass-roots movement developed among Mormons world-wide. Newscasters picked up photos of Mormons in bright yellow Helping Hands tee-shirts cleaning muck and clearing yards during Hurricane Katrina and other disasters in the United States. In fact, in 2007, Mormons world-wide responded to 170 major disasters.
The program doesn't require members to wait for a crisis, however. In Africa, royalty showed up to help out during a Mormon national day of service that involved more than 100,000 Mormons who repaired schools and hospitals, painted buildings and restored parks.
The program generally involves donations of time and labor, not materials. During disasters, other church programs pay for needed supplies. Mormons simply give of their time, the commodity most often in short supply in any community. Volunteers are counseled to avoid direct missionary work during this time, since that's not the purpose of the program, although, of course, they can answer questions that are directly asked of them. However, the primary focus is to be good citizens and to make a difference in their communities.
Most Mormons are already active in their schools and communities in various service forms. However, this is an opportunity for the church members to work together to organize or join into a program that can make a large scale difference, and that might not have existed otherwise.
In England, members of the church gave 2600 hours of service to restore a community park farm that was in financial difficulty. They began by repairing the wheelchair path, and also painted and cleaned the farm. In a nearby church building, other church members were cheerfully building bird boxes and feeders, and educational toys for the resource barn.
In Australia, women created 804 lap rugs, which were then distributed to nursing homes in the area. They also assembled maternity and school kits to be sent to Papua New Guinea. This was done as part of an annual women's conference, which traditionally, world-wide, includes a service project.
Youth in the church also have annual conferences in their local areas which always include a community service project. Teenagers work to clean up cemeteries, repair historical sites, and repair neglected parks. Each year, this teaches them to become active participants in their communities, preparing them for a life of Christ-like service.