Who is Jesus Christ?
Jesus Christ is the Son of God. He was chosen before the world began to be the Savior of the world. He is the second member of the Godhead, which consists of God, Jesus Christ, and the Holy Ghost.
Jesus Christ is the Firstborn of God. We lived with God before we were born, and when God presented
the great Plan of Salvation to us, He volunteered to come to earth to atone for our sins. It was impossible for us to live a sinless life and impossible, therefore, for us to atone for our own sins. However, the laws of justice and mercy allowed someone else to fulfill that role. Jesus Christ was the only One who could do so. If He had refused, or if He had backed out when it got difficult, we would never have been able to be saved from our sins. For this reason, Christians love and revere Him.
Jesus came to earth through a divine miracle. His mother was a mortal woman chosen for her righteousness. His Father was God. Mary was engaged to be married and learned of her pregnancy from an angel. Joseph, whom she was to marry, also learned of it through an angel after he had first decided not to humiliate her with a public denouncement. Mary remained a virgin until Jesus' birth.
Jesus was born in a stable because his mother and Joseph had traveled to Bethlehem to be taxed and the inns were full. An angel sent shepherds to witness the newborn child and to receive testimony of His divinity.
Jesus lived thirty-three years. Three years before His death, He began His mission. He was baptized, despite having no sins to be forgiven. However, it was a commandment and a time to make covenants (promises) to God, and so He insisted on being baptized.
During His ministry, He taught the gospel to anyone who would listen. He performed a variety of miracles and spent time serving others. He set an example for everyone to follow. Some people were offended because he associated with sinners or people considered outside the center of society, but Jesus explained that He didn't come to save perfect people—He came to teach the gospel to sinners. He knew that children of God were all loved by their Heavenly Father regardless of wealth or status and He was comfortable in the company of those not always respected by others with shorter sight.
The culminating event of His ministry, however, came at the very end. He knew His life was coming to an end at the hands of those who did not want God's word to get out to the world or who did not believe He was the Savior. He went into the Garden of Gethsemane and atoned for our sins. He suffered for each individual sin and the pain was so great He bled from the pores.
"Upon Him was the burden of all human transgression, all human guilt. And hanging in the balance was the Atonement. Through His willing act, mercy and justice could be reconciled, eternal law sustained, and that mediation achieved without which mortal man could not be redeemed.

He by choice accepted the penalty in behalf of all mankind for the sum total of all wickedness and depravity; for brutality, immorality, perversion, and corruption; for addiction; for the killings and torture and terror—for all of it that ever had been or all that ever would be enacted upon this earth. In so choosing He faced the awesome power of the evil one, who was not confined to flesh nor subject to mortal pain. That was Gethsemane!" (Boyd K. Packer, Who is Jesus Christ?, Liahona, March, 2008).
The atonement in Gethsemane continued on to the cross, where Jesus Christ was hung to die by His enemies. He was placed there by others, but only because He allowed it. Then, three days later, He rose from the dead, breaking the bonds of death. Because of His death and resurrection, we can all live again after death, forever. If we become worthy of God's presence, we can live with God for all eternity.
Summary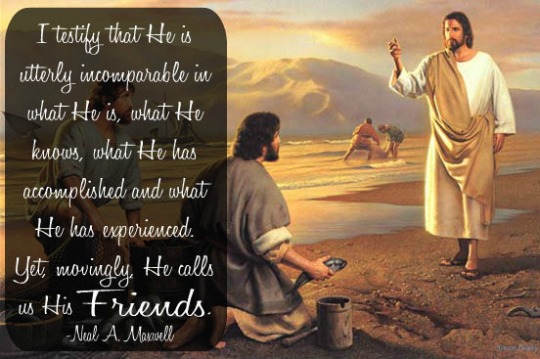 Article Name
Author
Description
Jesus Christ is the divine heart of Christianity. He made it possible for us to be forgiven our sins and to live forever.
About Terrie Lynn Bittner
Terrie Lynn Bittner is the author of two homeschooling books and numerous articles, including several that have appeared in LDS magazines. She is married to Lincoln Bittner and is the mother of three grown children and grandmother to two girls. Terrie became a Mormon at the age of seventeen and has been sharing her faith online since 1992. She can also be found blogging about being an LDS woman at LatterdaySaintWoman.com.
Tags: Atonement, Jesus Christ, Jesus' life, who is Jesus
This entry was posted on Wednesday, January 16th, 2013 at 1:53 pm and is filed under Array. You can follow any responses to this entry through the http://jesus.christ.org/5240/who-is-jesus-christ/feed feed. You can leave a response, or trackback from your own site.
2 Responses to "Who is Jesus Christ?"
joharah Says:
January 29th, 2013 at 2:07 pm

Why is Jesus Christ the firstborn of GOD? and why is Jesus Christ called God according to Christianity?

rachel Says:
January 29th, 2013 at 5:54 pm

Dear Johorah:
Thank you so much for your question! I hope I can do it justice and fully answer your question!
Jesus Christ is the Firstborn of GOD because he was the first to receive a spirit body from God. Before we came down to the Earth God created each of us as spirit children, giving us a spirit body. He had a plan which we call The Plan of Salvation in which we would come down to Earth and receive a physical body, however in doing so, it was unavoidable that we would sin, and it is true that no unclean thing may enter into the presence of God. Therefore there must be a Savior and a Redeemer, one who lived a perfect life, and who could offer that life up as an infinite and eternal sacrifice. Sacrificing themself to atone for the sins of all mankind. Christ was this Redeemer. It is by His sacrifice that we are saved. When we are baptized we are born again through the water and by the blood of Christ. Thus through baptism we are born again of Christ making Him our Father and accepting Him as such. Thus He becomes our Father also. When we read the word God in scriptures we must be cognizant and discern between which is being spoken of, God our Heavenly Father, or God our Savior Jesus Christ. Here are some links which can go into greater depth regarding this subject!

This link is on the Plan of Salvation:


This link is to a video discussing our Earthly and Heavenly Father:


This is a phenomenal Devotional that explains the concept of Christ as our Father, I definitely recommend you take the time to read it!


If you have any more questions I would love to answer them!
Sincerely,
Rachel
Leave a Reply
You must be logged in to post a comment.